U.S.M.R.R.
United States Military Rail Roads
by
Robert W. Hill, U.S. Army Retired
---
Transportation Corps
723rd Railway Operating Battalion

Officially formed July 31, 1942, The Transportation Corps took over the operation of Military Railroads from the Engineer Corps.
---
Coast Artillery Corps


Photo Copyrighted by Fort MacArthur Museum. Used with permission.
First used by the U.S. Military, railroad artillery was used up to the end of W.W.II. The Coast Artillery operated the railroad guns owned by the U.S. Army. During W.W.I the Navy operated U.S. railroad gun France. The railroad runs in the U.S. enjoyed their zenith during the 1920's. The 14-inch Model 1920 MKII was the best rail gun produced up to that time.
---
Engineer Corps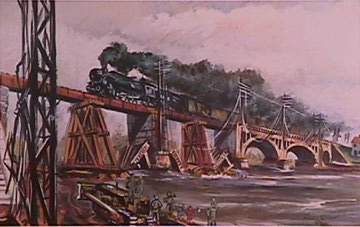 Operated the railroads up to 1942, then the Transportation took over the mission. Responsible for constructing and repairing railroads in tactical areas of operations.
---
Military Model Railroading


---
Rail Road Stamps

Not a U.S. Railway Gun
---
Links
Unofficial Military Railroad Homepage http://unixstew.tstc.edu/~1sgd6508/
Military Rails Online http://military.railfan.net/
Lee Unterborn's Home Page HTTP://www.geocities.com/Pentagon/Bunker/2869/lee.html
Fort MacArthur Museum http://www.ftmac.org/fmmhp.htm
WWII Railway Study Group http://web.ukonline.co.uk/members/n.robinson/WW2/index.htm
Military Railways-A Potted History http://homepages.tesco.net/~martyn.witt/milrly/index.htm
Railway Gun & Armoured Train Web Museum http://web.ukonline.co.uk/members/n.robinson/railgun/index.htm


Send me e-mail to: USMRR@netscape.net